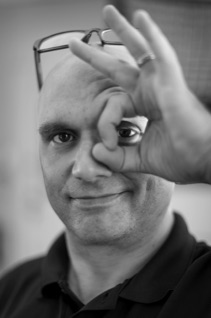 Michael Hallahan has spent almost his entire adult life with a camera in his hand. Showing talent for visual arts at a young age, he first began with graphite, charcoal, and pastels and was drawn into the darkroom through the print making process.
He worked in a pro photo lab printing their custom black and white and going out on assignment to make commercial work. He has also regularly assisted great photograhers like Story Litchfield ( Hinkley ), Bruce Cassaday ( Rolex, Buick ), and more until he felt confident in his ability to offer top notch service. In 1999, he created FinePrints.
In the early days, FinePrints was as much a custom darkroom making archival black and white fiber prints for discerning photographers as it was a photographic service. Hence the somewhat universal business name. Times change, though, and while the darkroom at FinePrints has been repurposed, Michael's dedication to photography as a service and as an art is stronger than ever.
"I try to shoot as much as possible because that's the only way to grow creatively. Winter is a fairly slow time of year in terms of business and I used to hate it! Now I realize that it presents me with an opportunity to take chances and make new work. Since I'm not under pressure to deliver a product, I can push myself in ways I normally wouldn't and take creative risks. This makes me a better photographer when the busy season comes and it sometimes results in my best work of the year."
"You'll notice that my work has become fairly dance-heavy in the past few years. I never expected to love photographing dancers as much as I do but it is incredibly satisfying to work with someone who is as passionate about their art as I am about mine. It's truly a collaboration."
Thanks for taking the time to look at this work. We would love to provide you with our creativity and fantastic customer service. The greatest honor our clients can give us is to refer to FinePrints as "my photographer". When we hear that, we know we're doing it right!